Located at the entrance of the town of Ducey-Les Chéris, on the riverbanks of the Sélune, the Château des Montgommery is a highlight for visitors. Its lush greenery and imposing brick and granite walls invite you to push open its doors and discover its astonishing and romantic history.
Adventures in the castle
A castle with a romantic past.
This Castle dates from the 17th century, and is a listed Historical Monument. It was built in the early 1600s by Gabriel II de Montgommery. The latter is the son of Gabriel I , remembered in the History of France for having accidentally killed the King of France, Henri II, during a tournament in Paris in 1559. Having converted to Protestantism, Gabriel I took part in the wars of religion alongside the Prince de Condé and the Admiral de Coligny, before being captured and sentenced to death, on the orders of Catherine de Medici, the widowed queen.
Gabriel II undertook the construction of a vast castle on his land of Ducey, of which only a large pavilion and one wing remain today, with an architectural style characteristic of constructions under Louis XIII.
The furnished interior contains a monumental staircase, remarkably well-preserved ceilings and richly decorated fireplaces, reflecting the ambition of a powerful Protestant lord.
A circuit to follow with interpretation panels allows you to discover the history of the families who successively owned the premises, and the richness of this 17th century architecture.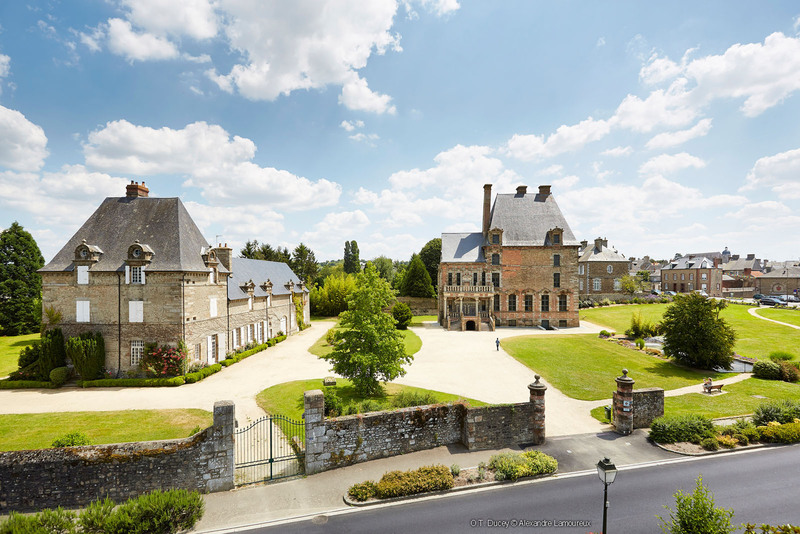 Dare you defy time?
We offer a life-size investigation game  for you to discover the story in a fun way. It takes place both in the castle and the grounds, open for the occasion until 29 August..
The plot is based on a mysterious time machine and the murder of the Avranchin guardian, Pierre Evrard, in one of the rooms of the castle. Feeling threatened, before his death, the latter is said to have hidden a mysterious object, brought back from the past, along with clues allowing us to discover to a dreadful secret that could turn the History of France on its head. The perpetrator is still at large. Will you uncover the secret and catch the dangerous criminal? An adventure linked to great history awaits you.
The puzzles are suitable for the whole family and an investigator's notebook for children is available at the castle's reception.
Find the website dedicated to the life-size The Ducey Code game here: : www.ducey-code.com.
Adress :
Château des Montgommery
4 rue du Général Leclerc – 50220 Ducey-Les Chéris
| tél. : +33 (0)2 33 60 21 53
| duceycode@gmail.com | www.duceycode.com |