What a pleasure it is to stroll through the markets around the bay and meet local producers and craftsmen.
When it comes to our craftsmen and producers, we really do recommend taking the time to discover them, chat with them and taste their local products. You'll discover the Norman art of living, where friendliness goes hand-in-hand with local specialities and the know-how of our craftsmen.
There's plenty of products in the aisles of our markets. This is the perfect opportunity to take home some of the delicacies and typical products of the region.
The markets of the bay
Monday : Saint-James, Juvigny-les-Vallées
Tuesday : Ducey-les-Chéris, Sourdeval
Wednesday : Saint-Hilaire-du-Harcouët, Pontorson
Thursday : Avranches (food only), Saint-Pois, Ger, Le Teilleul
Friday : Brécey, Sartilly-Baie-Bocage,
Saturday : Avranches, Mortain-Bocage
Sunday : Barenton, Saint-Jean-le-Thomas (only in July-August)
The flagship products of our destination :
Local food and drink :
Vegetables from the polders,
Salt-meadow lamb, andouilles,
Ciders and perry from our cider houses,
Bouchot mussels and oysters from the bay,
Honey, caramel, jams and biscuits,
Butter, cheese, fresh cream (and all their varieties of cheeses)
Not forgetting the famous teurgoule !
When it comes to crafts :
Pottery,
Jewellery,
Fisherman sweaters.
Then, once back home, you can prepare a proper Norman meal with some Traditional Norman Recipes !
The Saint-Hilaire-du-Harcouët market :
It is in this town, holder of the "Station Verte" Green Resort and "Famille Plus" Family labels, that we find the most beautiful market of our region – taking place every Wednesday !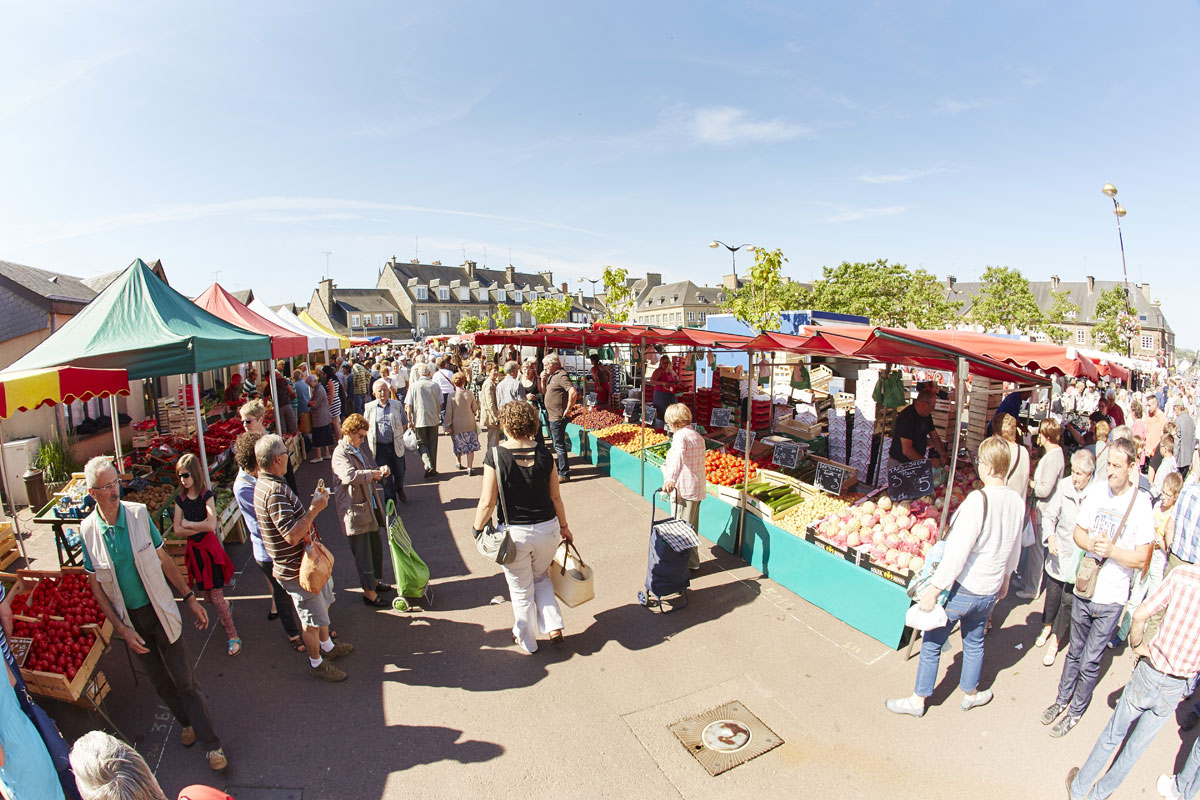 There's something to amaze all five senses as we wander the market …
It's impossible not to be attracted by the delicious smells of grilled sausage that waft through the Saint-Hilaire-du-Harcouët market. This Normandy-style "hot dog" is a must-have, no matter what time you arrive at the market.
The sausage galette will awaken all the senses :
First, through hearing, as the dough is spread out on the hot crêpe maker and it crackles as it cooks; while the sausage on the side sizzles on the grill.
Then we have the sense of smell, taking in all the delicious promises of this snack through the smoke and fumes.
Sight, as we see this sausage suddenly hidden away, wrapping itself in the galette.
Touch, as the sausage galette arrives, burning hot, in your hands and you try to save your palms from the biting heat.
And finally, the incomparable flavour of this flavourful street-food experience.
Whether you prefer ketchup or mustard, don't leave our local markets without trying it !